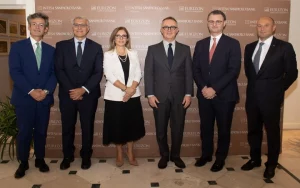 The Albanian Financial Supervision Authority (AMF) has granted licenses to Intesa Sanpaolo Bank Albania (ISBA) and Eurizon Capital, enabling them to provide Albanian investors with access to collective investment funds within the European Union, as announced by ISBA on Thursday.
ISBA, which is a wholly-owned subsidiary of the Italian international banking group Intesa Sanpaolo, will offer selected shares in investment funds known as SIKs, which are based in Luxembourg and issued by Intesa Sanpaolo's asset management division, Eurizon Capital. These SIKs function similarly to traditional shares of stock, but instead of representing ownership in a specific company, they represent ownership in a portfolio of assets held by the investment fund.
Additionally, AMF has granted recognition to Eurizon Capital as a management company in Albania. This decision aligns with Eurizon's strategic plans to expand its operations in the Albanian market, as highlighted by ISBA.